Have you heard about Catalan gastronomy and are you travelling to Barcelona to experience it? The city has a great gastronomic offer for every budget, from Michelin-starred restaurants to small, popular establishments with very interesting offers. 
16/12/2021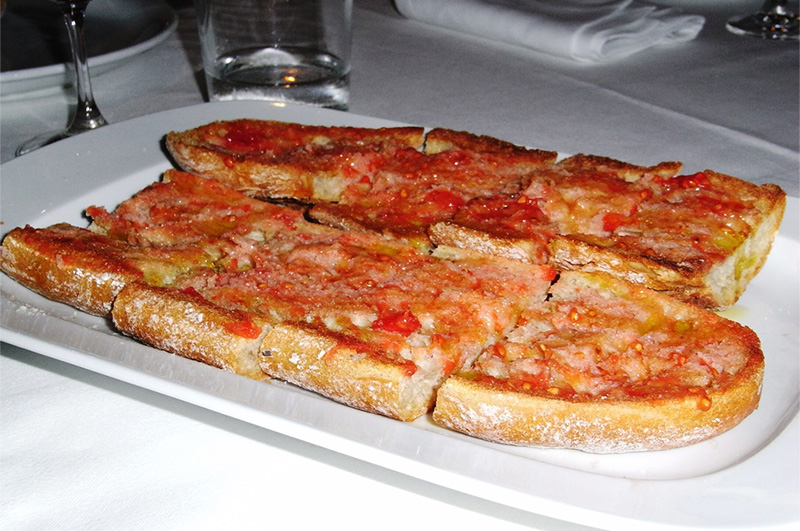 Catalonia is known for caring for and transmitting its gastronomic culture—a gastronomy with tradition, fresh and varied market produce, in addition to being the birthplace of chefs of both national and international renown.
Its restaurateurs have implemented hygiene and health prevention measures against the spread of Covid-19. It should be noted that the city has expanded its offer of terraces so that customers can maintain social distance.
If you want to experience the flavour of such a Mediterranean cuisine, we offer you these essential dishes:
Bread with tomato and Catalan sausages:
In Catalonia, a good sandwich is inconceivable without bread with tomato. It's a centuries-old recipe for making the most of bread. It's made with large slices from a loaf of country bread, on which a tomato is rubbed and which are then seasoned with oil and salt to taste. It's accompanied by typical Catalan sausages or cheeses, including roasted meat. It's ideal as a snack. Get off at any stop of the Barcelona Bus Turístic service and ask for "Pà amb tomaquet" (bread with tomato) in a restaurant, bar or tavern. In most establishments, they will have it.
"Mar i muntanya" (sea and mountain):
This is a typical Catalan dish with a pure Mediterranean flavour. It owes its name to the combination of seafood such as shrimp, crayfish or cuttlefish with ingredients from the mountain, such as rabbit, pork or chicken. It's powerful and recommended as a one-dish meal. It's made with a good "sofrito" (a type of aromatic sauce) and is left on a clay pot on low heat for a long time so that all the ingredients become steeped in flavour. Get ready to enjoy soaking some good bread in its delicious sauce.
"Esqueixada"

:
Fresh, light and simple dishes like a good Catalan "esqueixada" are ideal in summer. It's a salad made up of desalted cod crumbs, onion, tomato, black olives and roasted pepper and seasoned with a good olive oil and vinegar. Catalan people are very proud of this simple recipe, and many popular restaurants offer it in their menus. Discover them by getting around with the Hola Barcelona Travel Card: you'll enjoy a flat rate of unlimited trips throughout the whole transport network, for 48, 72, 96 or 120 hours.
"Calçots" with romesco sauce

:
"Calçots" are a late winter seasonal dish that is very typical of the Tarragona area, although the custom of having a "calçotada" (a meal centred around eating "calçots") has spread throughout Catalonia. For those who don't know what they are, these are green onions that are grown "calzándose" (hence their name), that is, by increasing the depth of the soil around them while they grow until they achieve their signature elongated shape. They are roasted over a fire with a grill and accompanied by a delicious romesco sauce made from tomatoes, spicy red peppers and garlic. And the best part is discovering how they are eaten: standing and wearing a bib. They are usually accompanied by grilled meat. The restaurants that offer "calçotadas" are usually located in the highest part of the city, in the direction of Tibidabo, the Collserola mountain range and the outskirts of the city. Download the free TMB application to plan your routes and transfers and reach every corner of Barcelona, no matter how far they are from your location.
"Crema catalana"

:
"Crema catalana" is the most international of all Catalan cuisine desserts. It's a cold custard-like cream that is made with milk, egg, lemon and cinnamon, with a final touch of toasted sugar on top. If you find yourself in a restaurant that offers homemade food, order this dessert to top off your menu. Move around the city in search of a good place to have lunch or dinner, but first check how to get around by bus or metro.
Recommendations from locals:
"If you have just arrived in the city and can't wait to taste Catalan gastronomy, I recommend heading to the Barceloneta neighbourhood, an old fishing district where you'll find an endless amount of places that offer the famous paella and both traditional and innovative tapas bars." (Tere López)

"To get to know the smells and flavours of my city, I love wandering around the popular markets. Barcelona has markets in every neighbourhood. The best known are La Boqueria and the recently remodelled Sant Antoni market, but you can also get lost around the stalls of the Santa Caterina market. And if you like architecture, pay attention to its roof: a giant mosaic of coloured ceramic. The Barceloneta market is famous for offering the freshest fish in the city, due to its proximity to the sea. In every market there are small establishments where you can taste the products the market offers". (Anna García)