Well into October, Catalonia takes on a very special smell when the chestnuts start being sold on the street. Their crackling while they're being roasted and the orange colour of the sweet potatoes are part of the autumn landscape of towns and cities.
25/10/2021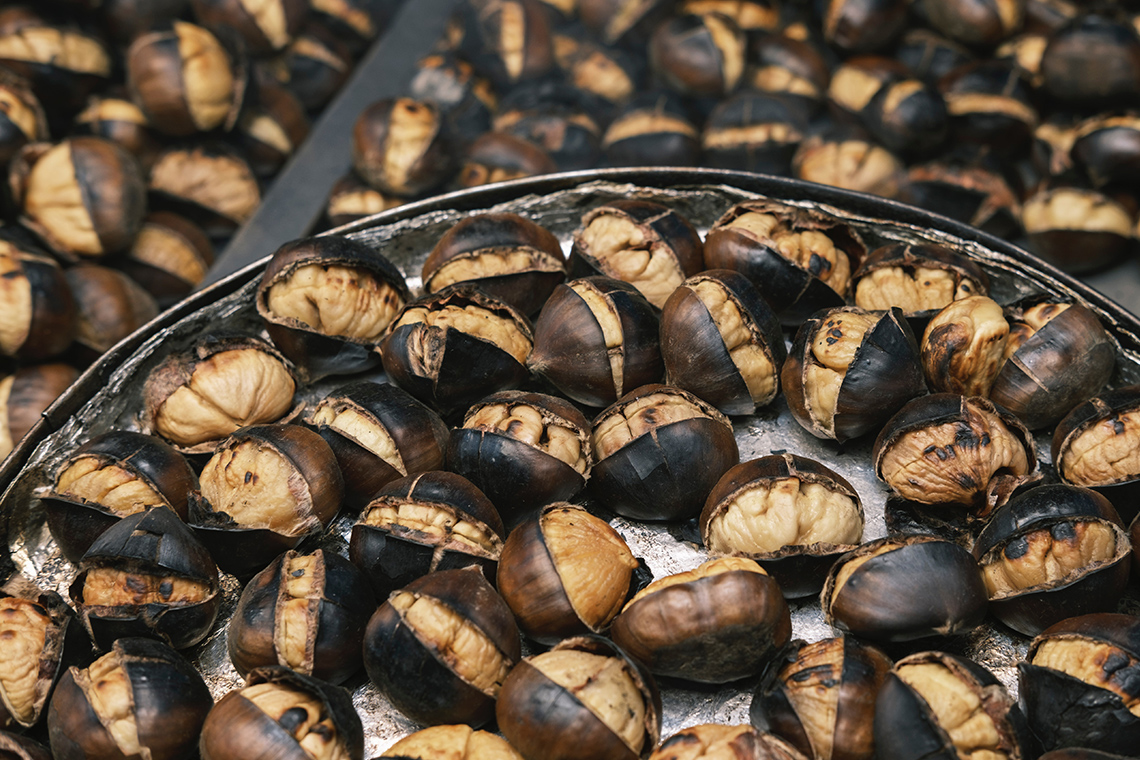 And as we approach the appointed date, pastry shops and bakeries fill their shop windows with panellets, another typical food of this time of year in Catalonia.
Tasting these typical autumn delicacies is a classic that you shouldn't miss if you're in Barcelona these days. Here we'll tell you a little more about this gastronomic celebration that coincides with the celebration of Halloween, which has also recently found a place in our country!
Come celebrate La Castanyada!
Around October 31st, in Barcelona and throughout Catalonia, La Castanyada is celebrated, a very sweet and very familiar festival linked to the celebration of All Saints' Day, which is on November 1st. This holiday of Celtic origin is dedicated to the memory of the dead.
On the night of October 31st to November 1st, families and groups of friends gather to eat chestnuts, sweet potatoes, panellets and drink sweet wine. If you want to join the party, we encourage you to buy chestnuts at one of the stalls you'll find on the streets, very hot and served wrapped in paper. And, if you feel like it and the sanitary protocols allow it, you can take part in one of the popular Castanyades organised by associations and civic centres around the city.
What are panellets?
If you have a sweet tooth, you're sure to like panellets. These typical Catalan sweets are made with egg yolk, sugar paste and almonds, which can be replaced by potatoes or sweet potatoes. You will find many varieties and different tastes in pastry shops. Although the most typical is the one with pine nuts, there are panellets for every taste: with almonds, chocolate, coconut, strawberry… In recent years, panellets of all kinds of flavours have become fashionable. You're sure to enjoy some of them!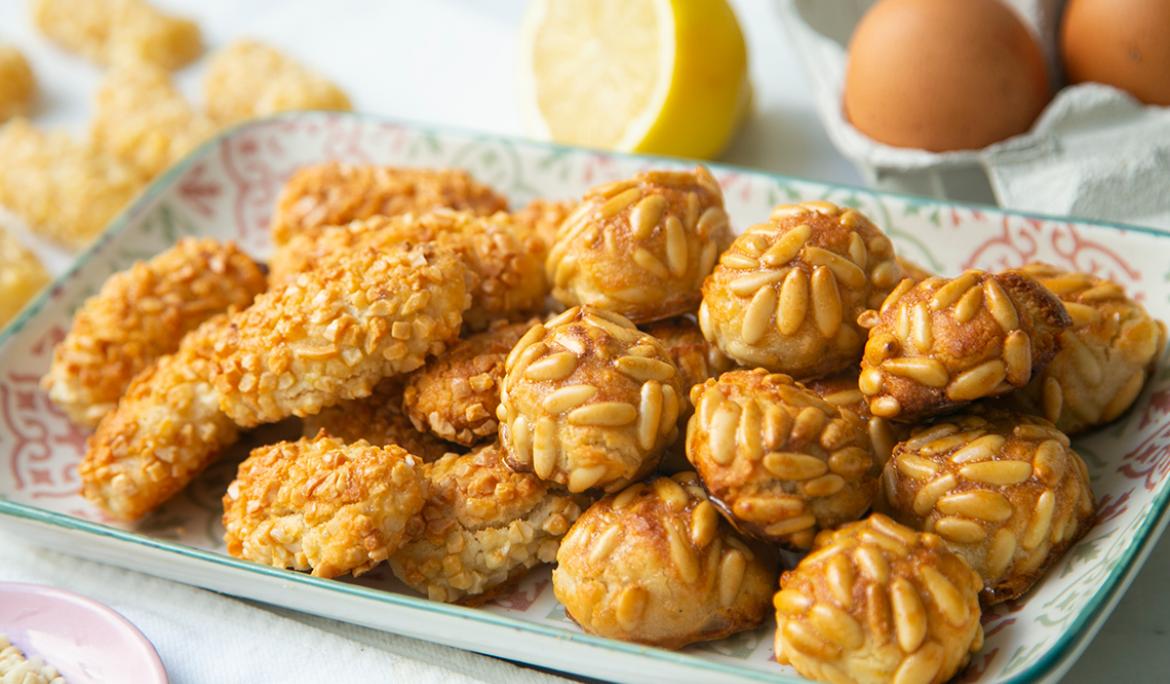 Cook them and enjoy them!
Preparing them at home is also a tradition for many families. The youngest members of the family often gather at their grandparents' house to cook some trays of this typical sweet.
If you're up to making them, this is the traditional recipe of the Fundació Institut Català de la Cuina i de la Cultura Gastronòmica (the Catalan Institute Foundation of Cooking and Gastronomic Culture):
Ingredients:
600 g of almonds and 3 eggs.
To make the marzipan dough:
500 g of powdered almonds
500 g of sugar
100 g of cooked sweet potato
75 g of egg white.
Directions:
Make a thin dough by mixing all the ingredients thoroughly. Let it rest in the fridge for at least 24 hours, wrapped in a damp cloth. Make oval marzipan balls of about 20 g, coat them with egg and stick a finely chopped almond in them by pushing it in a little. Paint the panellets with egg. Put them in the oven in a tin greased with oil at 230-250°C for about 10 minutes until golden. Eat them in the best company!
You can also celebrate Halloween
Together with the chestnuts, pancakes and sweet potatoes, you may also find ghosts and terrifying creatures. Since a few years ago, the celebration of Halloween has sneaked into the night of October 31st and has taken root among some families and organisations, civic centres, leisure centres and other spaces that make for a frightful time with their decorations, shows and horror atmosphere. Some shops also join in, decorating their establishments and their shop windows with the typical elements of this holiday: Jack-o'-lanterns, skeletons and sweets to give away in the neighbourhood are increasingly present at this time.
The Barcelona Bus Turístic and the Montjuïc Cable Car, with a surprise!
To celebrate both the Castanyada and Halloween, the Barcelona Bus Turístic and the Montjuïc Cable Car offer you a 30% discount. All you have to do is buy the tickets through the Hola Barcelona website and enter the code CASTAWEEN during the purchase process. The promotion is valid for tickets purchased between October 28th and November 3rd, and you will have three months to enjoy them.
Travel with the Barcelona Bus Turístic to the essential corners of the city with the explanations offered by the audio guides and with a single ticket you can hop on and off as many times as you like in a single day. You can choose between two routes: the blue and the red. Check the Barcelona Bus Turístic website to find out its routes and timetables.
And if you want to leave all four wheels on the ground, get on the Montjuïc Cable Car to see Barcelona from the air. You'll enjoy spectacular views and discover the mountain of Montjuïc and its cultural and outdoor attractions.
Take some hot chestnuts and some panellets with you and enjoy the celebration with TMB! Check the transport recommendations if you travel by metro and bus with your Hola Barcelona Travel Card!
Tags