The Barcelona Bus Turístic is temporarily not operating. Soon we will be running the official hop-on hop-off tour service to enjoy the city's most emblematic places and buildings. Meanwhile we explain you why it is an experience you will not be able to miss when we will see you again!
09/11/2020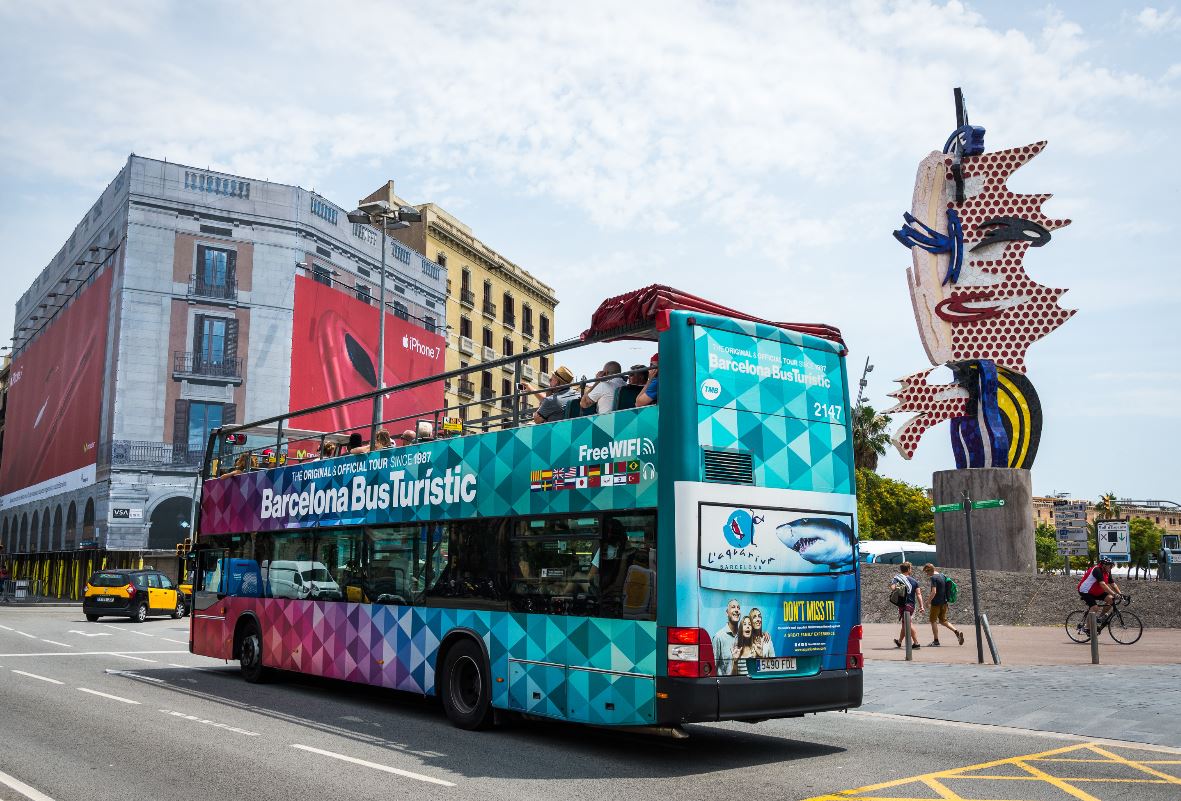 El 1987, TMB creava el Barcelona Bus Turístic, que portava el 100 com a número de línia. Més de 30 anys descobrint, d'una manera diferent, la ciutat i els seus punts d'interès més importants. Des de llavors, l'han utilitzat milers i milers de persones.
Amb el seu servei 'hop on hop off' pots pujar i baixar de l'autobús tantes vegades com vulguis amb el mateix bitllet. Si vols conèixer més aquesta forma tan senzilla de visitar Barcelona, et donem aquestes cinc raons.
Pels monuments i edificis més famosos
Visitar Barcelona significa també veure en primera persona aquells llocs emblemàtics que segurament hauràs vist en fotografies i en pel·lícules. L'autobús de dos pisos descobert et portarà per tots aquests llocs que són visita obligada si viatges a la ciutat.
Queda't bocabadat amb el modernisme d'Antoni Gaudí i Lluís Domènech i Montaner i els seus edificis més representatius: la Casa Batlló, la Pedrera, la Sagrada Família i el Recinte Modernista de Sant Pau.
Entre altres llocs, també passaràs per davant d'altres icones de la ciutat com són la Torre Glòries, l'Eixample i el Zoo.
Per les places i carrers més emblemàtics
El Barcelona Bus Turístic et portarà per les avingudes, carrers i places més famoses de la ciutat comtal. Podràs fotografiar l'avinguda Diagonal i la Via Laietana, sense oblidar el passeig de Gràcia, amb els seus característics fanals modernistes, i la cèntrica plaça de Catalunya.
Per les seves tres rutes
Blau, Vermell i Verd. Aquests són els colors del Barcelona Bus Turístic. Tres rutes, tres formes diferents de veure la ciutat.
La Ruta Blava et portarà a gaudir de la plaça de Catalunya, del modernisme i, si t'agraden els esports, visitar el Camp Nou, estadi del FC Barcelona. Amb aquesta ruta podràs descobrir la zona alta de Barcelona i visitar el Park Güell, d'Antoni Gaudí, el Monestir de Pedralbes i el Palau Reial, situat a l'avinguda Diagonal.
La Ruta Vermella, en canvi, circula pel centre de la ciutat. A més del modernisme del passeig de Gràcia, passeja pel barri Gòtic, el Parc de la Ciutadella i deixa't portar fins a la muntanya de Montjuïc, amb la seva font màgica i el Poble Espanyol.
I, per últim, quan arriba la calor primaveral es posa en servei la Ruta Verda. Et recomanem que escullis aquesta ruta si vols descobrir una part de Barcelona bastant desconeguda. Passaràs pel barri del Poblenou, el Port Olímpic i la zona del Fòrum, construïda per albergar el Fòrum Universal de les Cultures del 2004.
Si vols tenir a mà el mapa de les tres rutes, descarrega-te'l en aquest enllaç.
Perquè estaràs segur en tot moment
El Barcelona Bus Turístic ha incorporat una sèrie de mesures de seguretat i de protecció contra la Covid-19. Al vehicle, adaptat per a persones amb mobilitat reduïda, posem a la teva disposició un punt de desinfecció amb gel hidroalcohòlic. A més, s'han reforçat les tasques de neteja i desinfecció dels autobusos.
Per part teva, només has de posar-te la mascareta i ja estaràs a punt per gaudir de Barcelona com mai abans ho has fet.
Per les facilitats per comprar els bitllets
Et recomanem que reservis el teu bitllet a través del web d'Hola Barcelona per gaudir d'un 10% de descompte. Un mateix bitllet et permet agafar les tres rutes i pujar i baixar quan tu desitgis. Veuràs que hi ha quatre tarifes, adaptades per a cadascun dels passatgers: adult, infantil, menors de 4 anys (amb el bitllet gratuït) i sènior i persones amb discapacitat.
Quan mostris el teu bitllet a l'autobús, rebràs un plànol de la ciutat i una guia en diversos idiomes, a més d'un carnet amb més de 250 euros en descomptes per activitats d'oci i culturals.