In addition to its rich heritage, Barcelona and Catalonia in general, have important cultural traditions that we invite you to discover. Centuries of history have shaped festivals, traditions and popular celebrations that are still deeply rooted in the territory and its people today. We want to share this with all those who visit us! Currently, the health crisis caused by the SARS-CoV-2 coronavirus prevents us from celebrating our festivities in normal circumstances; however, we hope that very soon we will be able to celebrate again as we have always done.
05/11/2020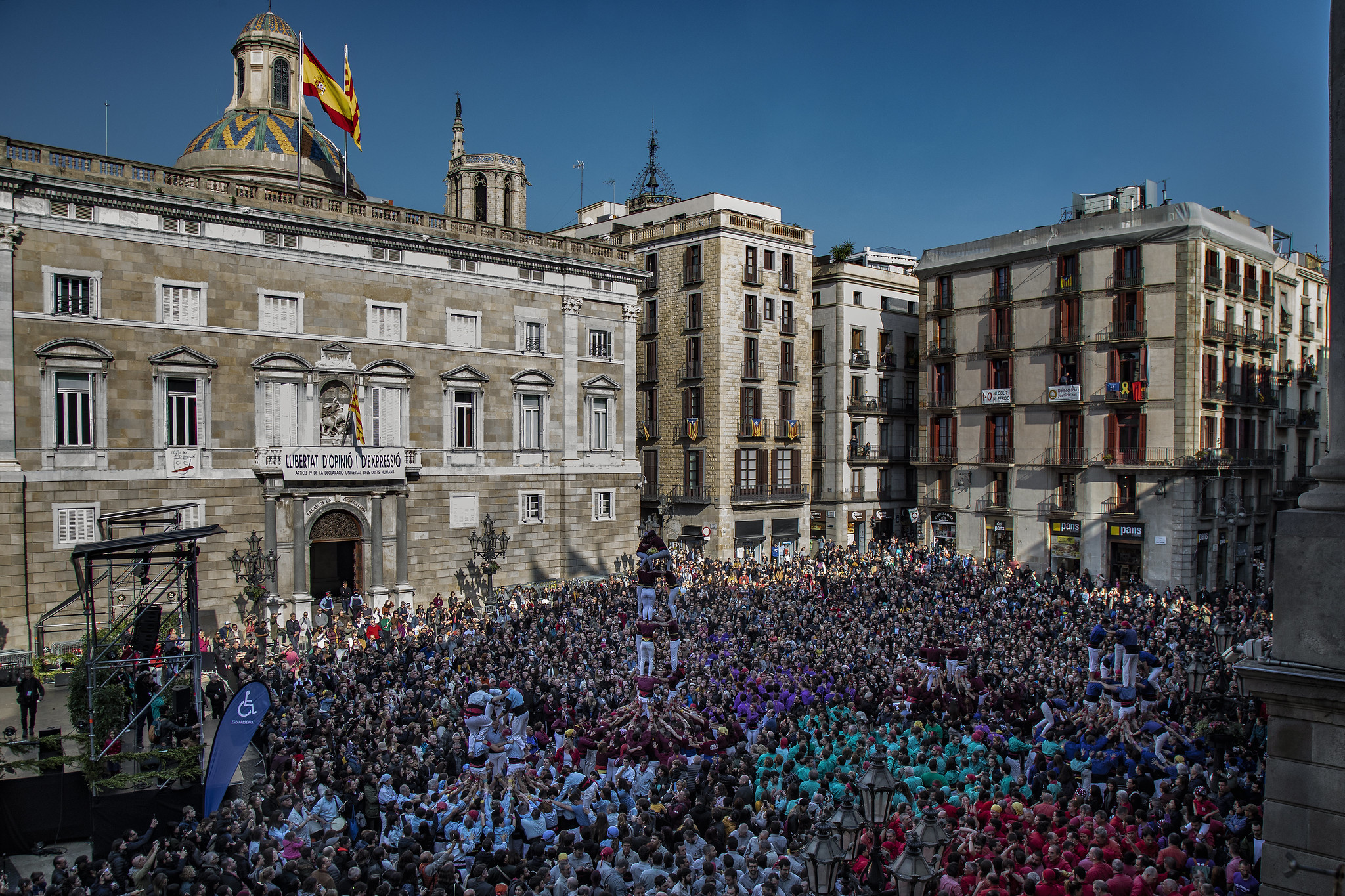 Castellers, les espectaculars torres humanes
Un dels exemples més coneguts i espectaculars de la tradició catalana són els "castells", construccions humanes en forma de torres, en què cada casteller es posa dret damunt les espatlles del casteller de sota.

Les altures d'aquestes construccions poden variar, de quatre pisos fins a deu. Les actuacions castelleres acostumen a ser un dels plats forts de les festes majors a tot el país.

A Barcelona es coneix l'existència de colles castelleres (grups de castellers) des de finals de segle XIX. Actualment hi ha sis colles a la ciutat i una de les seves cites més importants són les Festes de la Mercè, quan actuen a la plaça de Sant Jaume, que s'omple de públic per gaudir d'un espectacle únic.
Dansa: la sardana i el 'ball de bastons'
La sardana és la dansa popular més estesa pel territori català. Es balla en rotllana, mirant cap al centre. A el so de l'orquestra, anomenada 'cobla', els dansaires, homes i dones alternats en nombre indeterminat, es donen les mans i puntegen amb els peus uns passos, curts i llargs.

Si visites Barcelona segur que et trobes amb una celebració que inclogui una "ballada de sardanes d'estiu". A més, al parc de Montjuïc, hi ha una escultura dedicada a aquesta dansa, la popular "Sardana" de Josep Cañas, que dóna la benvinguda als visitants que arriben fins al Mirador de l'Alcalde.
Per la seva banda, el 'ball de bastons' està format per un conjunt de balls que utilitzen un bastó o dues colpejant a el ritme de la música. Els balls narren en forma de dansa la lluita entre dos bàndols, que es distingeixen pels colors del seu vestit, en concret del faldellí i el mocador.

Aquesta tradició es troba estesa per tot el Mediterrani i tot Europa, amb particularitats definides a cada lloc. A Catalunya la primera referència documental coneguda d'un ball de bastons 'es remunta fins al segle XII!
El foc, el gran protagonista
El foc, present en moltes de les tradicions antigues, també té un protagonisme molt destacat en les festes que se celebren a tot Catalunya. En els solsticis sol haver dies en què el foc és el protagonista absolut, com en les fogueres de Sant Joan i les fogueres de Sant Antoni. Alguns ritus litúrgics també el tenen present, per exemple la Vetlla Pasqual i la Festa de la Candelera. La presència de foc a Barcelona sobresurt en les actuacions de diables i bèsties, especialment en els correfocs de les festes majors.
Si durant la teva visita tens ocasió de veure-ho, no dubtis a assistir a un correfoc o ball de diables. Amb arrels en les manifestacions teatrals medievals, és un espectacle de carrer on el públic interactua amb el foc. Generalment se celebra de nit, té un itinerari fixat i, a més dels diables, solen participar peces d'imatgeria festiva, principalment dracs. Una pujada d'adrenalina gràcies a la dansa, la música i els elements pirotècnics.
I si la teva visita transcorre al juny, uneix-te a la revetlla de Sant Joan, una celebració popular que dóna la benvinguda al solstici d'estiu. La festa se celebra amb trobades veïnals, familiars o amb amics i el seu element més representatiu són les fogueres i els espectacles pirotècnics.