Catalan society has been evolving and so have the rooms that host live music, events and all kinds of acts. However, some of the oldest and most characteristic rooms in the city still remain. Discover which are the most emblematic and curiosities that characterize them. Hola Barcelona takes you!
12/12/2022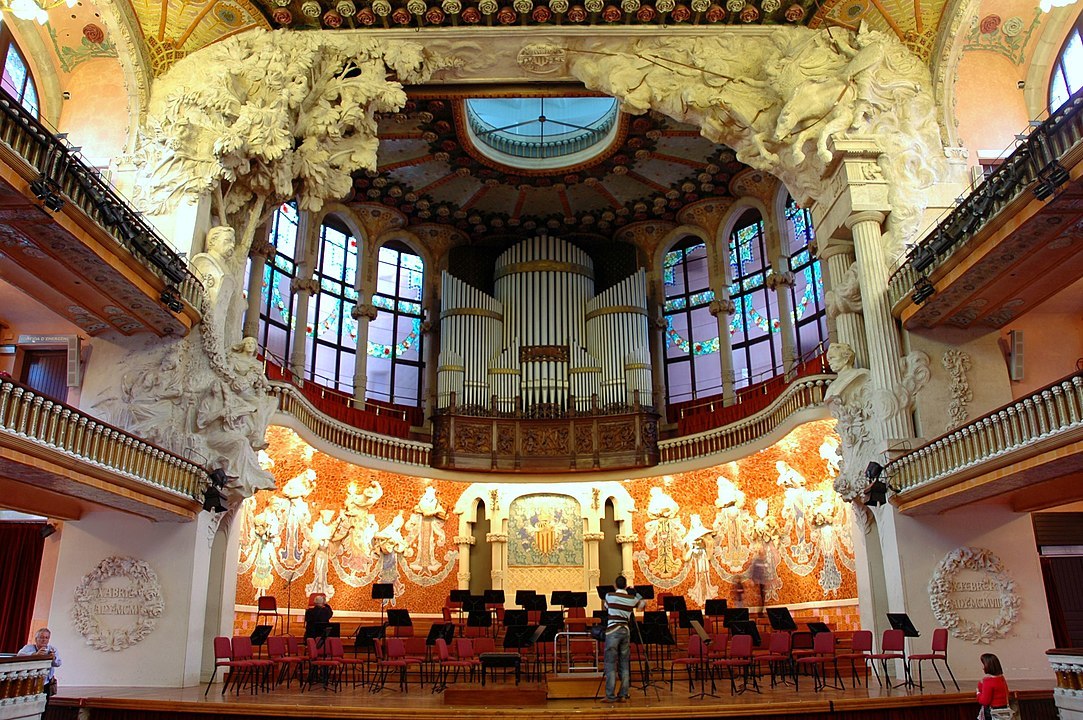 Barcelona has a lot of rooms to enjoy different styles of music. Some are bigger, others more modern, but they all have some characteristic that makes them special. If you're looking for the most emblematic of the city, here's a list with some of them:
Sala Apolo is currently a well-known concert hall and night club in Barcelona. In addition, it is also one of the oldest dance halls in all of Europe and space for all kind of musical events and artitsts, both national and international.
It is located on Avinguda del Paral·lel and since its beginnings it has been evolving at the same time as Barcelona, ​​so it is part of the DNA of the city and the people of Barcelona. It was born as an amusement park, but has housed a dance hall, a bingo and a skating club.
The hall hosts, on a weekly basis, all kinds of concerts and musical events that include very varied styles.
One of the most characteristic features of this room is the illuminated facade with its own name. Razzmatazz is one of the biggest nightclubs and concert halls in the city. It has five different rooms where they play music for all tastes and is located on carrer dels Almogàvers, in the Poblenou district.
In addition, it has an ideal infrastructure for carrying out events linked to music.
Also known as El Liceu, it was the first opera house in Catalonia and Spain, as well as being the city's point of reference for the social, political and artistic life of the time. Currently, it concentrates a mostly artistic and musical activity.
A remarkable fact is that in 1994 there was a fire that destroyed the theater room. At that time it was rebuilt and the new Liceu was inaugurated in 1999. It maintains some essential features of the old Liceu such as the main facade of the Rambla, the staircase and the ceiling painting.
It is located on the Rambla in Barcelona, ​​at number 51-59.
Palau de la Música Catalana
Palau de la Música Catalana is a music auditorium, located in the neighborhood of Sant Pere, which was born as a headquarters for the Orfeó Català and which was declared a World Heritage Site in 1997. In its beginnings, its main function was to host orchestral concerts, choral music or interpretations. Although it remains so now, it also hosts modern music concerts.
A remarkable fact is that the architect of the building was Domènech i Montaner, who contributed to the characteristic elements of Modernism.
Antilla Barcelona is a room with a completely different style from the previous ones. This is the pioneering Salsa room in the city of Barcelona and, for more than 25 years, it has been the venue by excellence in setting the rhythm of music and the Latin atmosphere.
If you like and enjoy jazz, this club is a must. Jamboree was born in 1960 at Plaça Reial, when businessman Joan Rosselló decided to reinvent the old Brindis bar, transforming it into the reference club for jazz.
Throughout its history it has offered live music shows, DJ sessions and dance classes, among others.
La Paloma is the oldest dance hall in all of Europe and, despite being closed for more than 13 years for breaching noise regulation, it is back in operation from 2022.
Located at Carrer del Tigre 27 in Barcelona, ​​the room has hosted television programs, monologues, recordings and all kinds of private events. Initially, however, boleros, rumba and disco were predominant.
In Barcelona there is a great diversity of music venues, but these are some of the most recognized and emblematic of the city. You can get to all of them by bus and metro with your Hola Barcelona Travel Card!
Tags